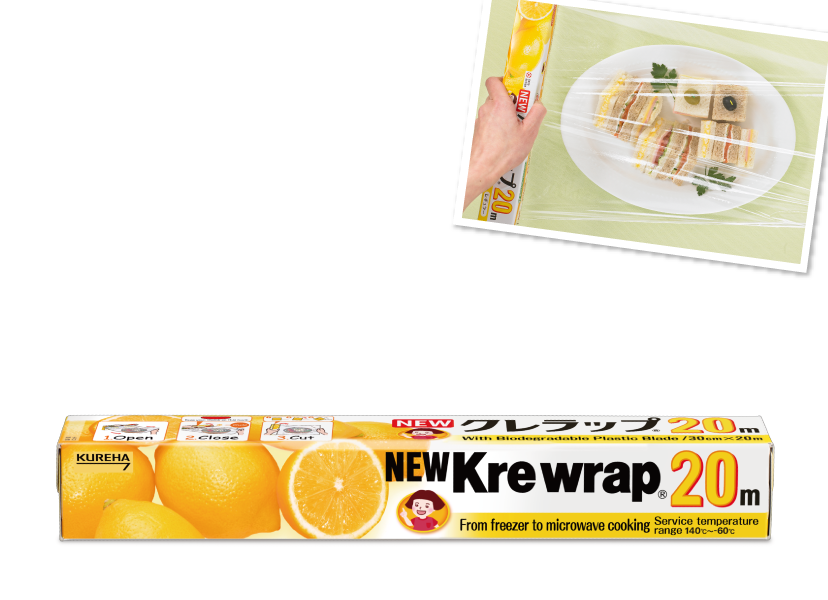 Product Features: Film
See the difference with NEW Krewrap,made from polyvinylidene chloride!

Keeps in moisture

NEW Krewrap makes it hard for water vapor to escape.

Ability to retain moisture: Approx.


2.5

times* as effective as other products

Moisture is maintained, keeping food from drying out.It can also stop foods which don't like moisture from getting soggy.

Green perilla leaf stored for 10 days
(tested at 5°C)

Prevents oxidation

NEW Krewrap makes it hard for oxygen to enter.

Oxygen barrier property :
Approx.

200

times* stronger

The freshness of food is maintained by protecting it from oxidation, which causes changes in color and a decrease in flavor.

Avocado paste stored for 24 hours
(tested at 5°C)

Restricts transference of smells

NEW Krewrap has higher density and is more tightly structured compared to polyethylene and polyvinyl chloride wraps.

The wrap consists of a fibrous molecular structure.

The aroma of food is preserved without tainting other foods stored nearby.

Check out this experiment!
Comparing NEW Krewrapwith other cling wrap brands.

From the microwave to the freezer

NEW Krewrap is resilient to heat!

You can safely use it from within the microwave to the freezer!

Check out this experiment!
Comparing NEW Krewrap with other cling wrap brands.

Spring and resilience

Made with springy and resilient materials, NEW Krewrap is strong, yet easy to cut!

Check out this experiment!
Comparing NEW Krewrap with other cling wrap brands.

A tight seal

NEW Krewrap is made with materials giving it incredible sealability,
so it seals on tight to dishes, and wraps around foods nice and snug.
Product Features: Package
NEW Krewrap not only features
easy-to-use ingenuity in its film, but also in its package.
Cuts cleanly from the center with a V-shaped blade!

NEW Krewrap uses a V-shaped blade, making a thorough cut from the center.

Full of easy-to-use innovations!

Check out this experiment!
Comparing NEW Krewrap with other cling wrap brands.
How to use NEW Krewrap
Keep food delicious with NEW Krewrap

Two things you need to pay attention to when storing food are dryness and oxidation.
Dryness and oxidation have a large effect on the taste and texture of food.
NEW Krewrap prevents the oxidation and drying out of foods, and helps with keeping foods stored fresh!
A tip to keeping food delicious is wrapping it so it isn't exposed to air!

Storing meat and fish

Storing staple foods

Storing fruits and vegetables

Quick, smart microwave cooking with NEW Krewrap

NEW Krewrap is resilient to heat, and acts as your partner even with microwave cooking!
Use your microwave to make fantastic meals in a quick, smart way!

Prepare vegetables with your microwave

Cut your total cooking time by using NEW Krewrap in your preparation!

Cook quick with your microwave!

A huge help with cooking fast when you're busy!

Check out recipes using NEW Krewrap!
Notes
Notes on use
Don't use this product for anything other than wrapping around and over foods.

Don't use with oven functions in microwaves or with oven toasters.

Don't place near heat of stovetops, oven toasters, etc. as sheets of wrap may stick together, making them unusable.

When using in a microwave, do not let the wrap directly touch oily foods as their temperature can grow too hot.
Inquiries
International Marketing Department, Kureha Corporation

3-3-2 Nihonbashi Hamacho, Chuo-ku,Tokyo 103-8552, Japan

E-mail

info-krewrap@kureha.co.jp

Please understand that it may not be possible or
may take time to answer some questions depending on their content.
Terms of use
Use this site after fully reading through and agreeing to the terms of use of this website below.
1. Site contents

The contents on this site (information, data, images, trademarks, designs, etc.) are protected by the copyright laws, industrial property laws, etc. of Japan and other countries. Use of such information for sales, falsification, reproduction, display, distribution, and other use for commercial purposes is not allowed.

2. Use of this site

Great consideration is given to providing accurate and up-to-date information on this site. However, the accuracy and completeness of the information provided here and of that linked to this site cannot be guaranteed by Kureha Corporation. In using this site, judge for yourself whether its information is suited or not to your purpose of use.

3. Disclaimer

Kureha Corporation cannot be held liable for any damage caused or consequent concerns due to the use of information provided on this site. No guarantees can be given regarding regular updates or revisions to the information provided on this site. Also, such content may be changed or discontinued without notice.
Page Top